Description
The MaxiDiag MD808 Pro is built to take your diagnostic experience to a whole new level. Loaded with oil service reset, battery registration and reset, parking brake pad relearn after replacement, steering angle sensor relearn and diesel particulate filter regeneration functions, MD808 Pro can access ALL available modules for the best diagnosis operations. With all that enclosed in a 4-inch hand-held device, there is no better multifunctional scan tool on the market.
The all new Autel MD808 pro offers technicians more advanced features and functions to diagnose all systems for major vehicles on the road today. With all the amazing functions, the small andexquisite tool is capable of delivering unmatched efficiency in diagnoses and services, making the ideal service tool priced for everyone to afford. 

Vehicle Coverage
For Abarth, For Alfa Romeo, For Audi, For VW,  For Seat, For Skoda, For Volvo, For Saab, For Bentley, For Mercedes Benz, For BMW, For Bugatti, For Citroen, For Renault, For Peugeot, For Dacia, For Fiat, For Ford, For Jaguar, For Lancia, For Landrover, For aybach, For Mini, For Opel, For Porsche, For Smart, For Vauxhall, For Acura, For Daewoo, For Honda, For Hyundai, For Isuzu, For Kia, For Lexus, For Mazda, For Mitsubishi, For Nissan Group, For Scion, For Subaru, For Suzuki,For Toyota, For Chrysler, For Ford, For-G-M
1. Support Read/Clear Codes and Live Data functions for ALL systems
2. Read and clear trouble codes, control and test BMS/Oil Reset/ SRS/EPB/DPF systems
3. Support oil service reset.
4. Support battery registration and reset
5. Diesel particulate service including forced regeneration
6. Reset steering angle sensor (SAS) functionality.
7. Relearn parking brake pad after replacement
8. Reset service mileage and service intervals
9. Turn off ECU brake warning light
10. Perform O2 monitor, on-board monitor, I/M readiness and component testing.
11. Print diagnostic reports via PC connection
12. Global OBD II coverage for U.S. domestic, Asian and European makes and models
13. All OBD II protocols, all 10 test modes and enhanced OBD II mode 6 support .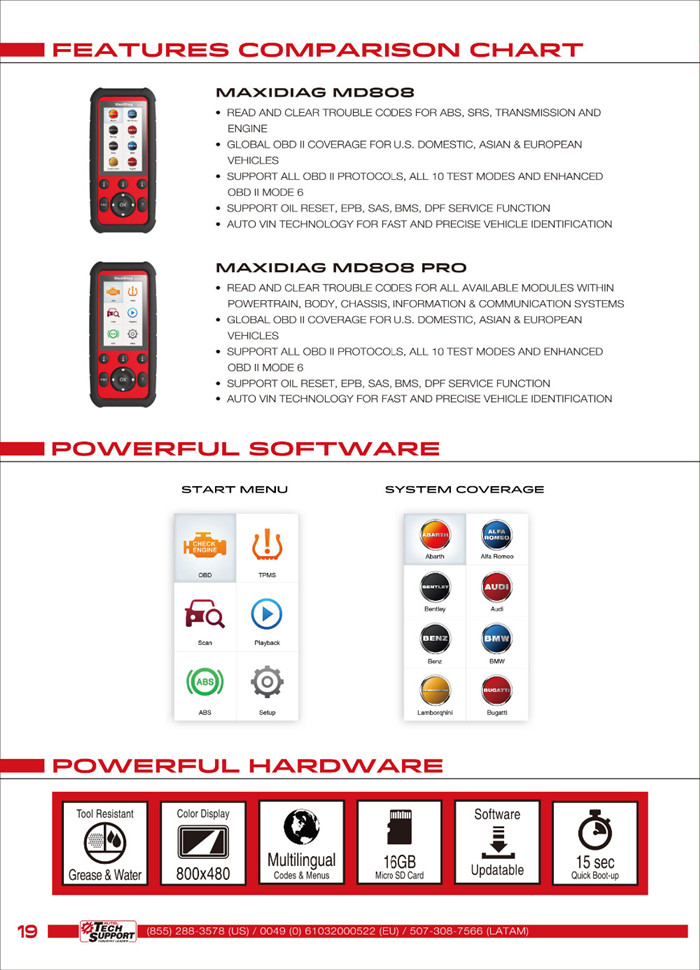 MaxiDiag MD808 Pro Specifications
Processor ARM Thumb Processor (400 MHz)
Display 4.0 inch LCD with 800×480 resolution
Connectivity Mini USB: 2.0 Micro SD Card (16GB)
Operating Temperature -10°C to 60°C (14°F to 140°F)
Storage Temperature -20°C to 70°C (-4°F to 158°F)
Operating Humidity 5% – 95% non-condensing
Housing Strong plastic housing with protective rubber boot

Autel MaxiDiag MD808 Pro Package List:
1 x Quick Reference Guide